Red Hill Lookout
How to get there
From Black Mountain, return downhill and turn right onto Clunies Ross Street. Continue west along Lady Denman Drive past the zoo and over the dam. Turn left onto Cotter Road, take the first exit left then left again at the lights onto Dudley Street. Follow this road as it goes parallel to Adelaide Avenue and turn right on to Hopetoun Circuit. Travel under Adelaide Avenue and bear left at the roundabout onto Stonehaven Crescent. Follow the signs along Gowrie Drive and Red Hill Drive.
From the Canberra and Region Visitors Centre continue south on Commonwealth Avenue, over bridge and take the State Circle exit around Parliament House. At the fifth lights turn left into Melbourne Avenue and continue up Red Hill Drive.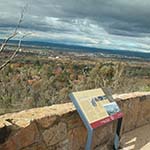 Why is this interesting?
Red Hill offers further spectacular views. The two separate lookouts show contrasting scenes illustrating two key periods in Canberra's history. The view north-east is across Parliament House and Lake Burley Griffin up Anzac Parade to the ancient volcanic shape of Mt Ainslie. This is the original capital city, as defined by the Griffin plan and interpreted by successive Commonwealth agencies. Griffin proposed a 'capitol' building on Capital Hill. Parliament House was built here 75 years later. This building, as well as Old Parliament House and the Australian War Memorial, lie along Griffin's land axis. If you move closer to the view, you can also see some of the suburbs designed by the Federal Capital Commission between the world wars.
The capital's functions are marked by prominent buildings, monuments and trees. But for much of the twentieth century this was a place of half-completed dreams, with the Molonglo River dividing the town and a provisional Parliament House surrounded by empty paddocks. Construction workers camped in tents, politicians lived in hotel rooms, and homesick public servants occupied hostels and raw new cottages.
Move uphill to look west and take in the first phase of metropolitan Canberra after World War Two. Woden-Weston Creek was the location of soldier settlement farms until suburbs were built in the1960s. Woden Town Centre, marked by tall buildings, was the first of the NCDC's new towns. The 'spine' of the landscape plan is Yarralumla Creek, running down the centre of the valley. The suburban districts of Woden and Weston Creek are separated by the ridge in the middle distance which is part of Canberra's open space network, terminating at the southern end in Mt Taylor.
Red Hill has another attraction: coffee at the café on the summit. Take a break while still enjoying the view.